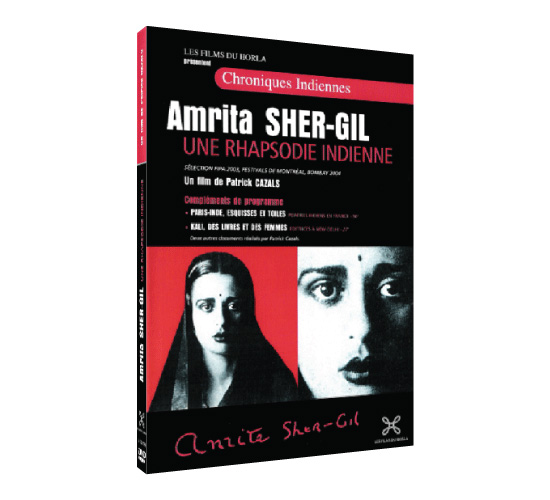 AMRITA SHER-GIL, UNE RHAPSODIE INDIENNE
Pour le peuple indien, Amrita Sher-Gil est une légende. Née à Budapest, morte à 28 ans à Lahore, en 1941, elle reste pour tous les artistes de la diaspora indienne à travers le monde un repère essentiel, une mémoire au charisme proche d'une Frida Khalo.
Peintre décisif pour la naissance de la peinture contemporaine indienne, elle est, au même titre que Nehru, Tagore ou Satiajyt Ray, celle qui dans son domaine, a offert au sous-continent indien une part de sa modernité.
Tourné à New-Delhi, Bombay, Simla, Budapest et Paris le film propose un récit de vie éclaté, romanesque, retraçant l'engagement pour la peinture d'une artiste féministe au destin fabuleux.
PARIS-INDE, ESQUISSES ET TOILES
Venus à Paris dans les années 1950-55 pour se former au contact des artistes de Montparnasse, quatre peintres indiens amis ont pris ensuite des chemins différents. Raza est resté à Paris, Ram Kumar vit à Delhi, Krishna Reddy à New York, Akbar Padamsee enfin se partage entre Bombay et Paris.
Ce film permet de les retrouver ensemble et dans leurs ateliers respectifs.
KALI, DES LIVRES ET DES FEMMES
Fondée dès 1984 à New Delhi par deux militantes féministes, Urvashi Butalia et Ritu Menon, la maison d'édition « Kali for Women » a permis depuis d'accompagner les luttes des droits des femmes en Inde, aux Etats-Unis comme en Grande-Bretagne.

AMRITA SHER-GIL, AN INDIAN RHAPSODY. 52 min
For the indian people, Amrita Sher-Gil is a legend, a symbol. Born in Budapest in the early years of the Great War, this artist who was behind contemporary Indian painting died in the winter of 1941,at age 28.From Delhi to Bombay, and for all the artists of the Indian Diaspora throughout the world, she remains an emblem, a memory.
Her charisma, sometimes compared to that of the Mexican artist Frida Khalo, situated her at the origins of Indian modernity. Like Nehru (one of her friends),Tagore and Satyiajit Ray, she provided, in her field, the Indian sub-continent with a part of its modernity.
Shot in New Delhi, Bombay, Simla,Budapest and Paris, the film retraces her wide-ranging life using her letters to friends and family.The film describes a commitment to painting and a life in art as legendary as certain Indian movie stars,such as Smita Patil or Raj Kapoor.
Fill-up:
PARIS-INDE, SKETCHES AND CANVAS. 50 min
The film, which is a 50 minutes long, provides a rare insight into the Parisian influence on four major contemporary Indian artists : Raza, Krishna Reddy, Akbar Padamsee and Ram Kumar.
Came in Paris in the fifties to study painting in Montparnasse area, they took later different ways.
Raza would stay in Paris while Ram Kumar would also come back to Delhi and write books and novels, Krishna Reddy still lives and teaches in New York and Akbar Padamsee lives in Juhu but also in Paris with his family. The film tries to gather the artists and follow them in their studios but also during a Festival of India exhibition in Paris.
KALI, BOOKS AND WOMEN. 27 min
Kali for Women, India's first women's publishing house, exists since 1984. Founded in New Delhi by two militant feminists, publisher and French language writer Urvashi Butalia and Ritu Menon, its objective has been to increase the body of knowledge on women in the Third World.
It also continues to denounce violence against women in Indian society. Working closely with groups of women workers and farmers, the two publishers have brought out a quality.
Litterature, supporting the careers of their authors for as long as five or ten years.